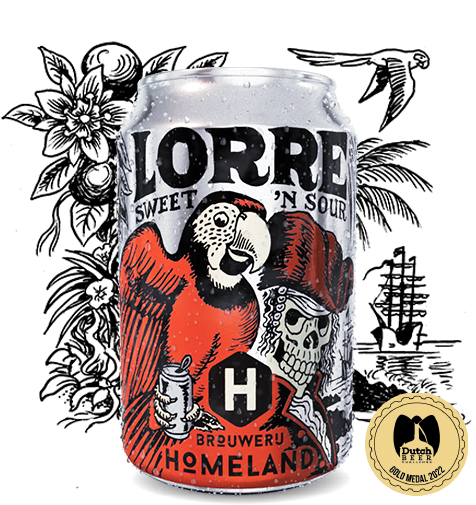 Lorre
Sweet 'n Sour
Once chosen to be out on the wide open sea on its way to the tropics, now back ashore at Homeland. An easy going beer with a summery sweetness, punchy acidity and a lot of passion. Taste the surprise!
Gold for Lorre!
Lorre won Gold at the Dutch Beer Challenge 2022!
Lorre is a sweet and sour beer with a taste of mango and passion fruit. It is a kettle sour, which means that various lactic acid bacteria are added to the kettle to acidify the wort to a pH of 3.2 for 48 hours. This strong acidity balances the sweetness due to a low degree of fermentation and the addition of lactose, which gives the beer a lot of residual sugar. Motueka hops added in the whirlpool give this beer a tropical hop aroma.
Fruit, fruit, fruit
Large quantities of pure mango and passion fruit are added to the beer during fermentation, making this beer a tropical treat.
Untappd
"Light acidic, very pleasant."
specifications
alc.: 5%, ibu: 21, ebc: 8
There are no products in the cart!