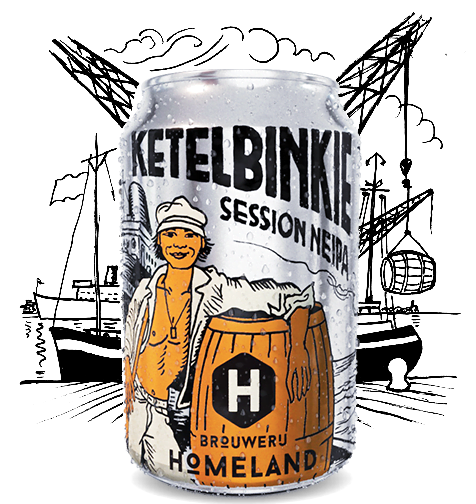 Ketelbinkie
Session NEIPA
Citra, rakau and lemondrop make this a bag full of soul with a truly adventurous character that is ready for the long haul. A crisp and especially fruity appearance with traces of oats and wheat and only 3,5% alcohol. This one drives it home!
Low alcohol
Ketelbinkie is a low alcohol New England IPA. The malt recipe consists of 1/3 oats, 1/3 wheat and 1/3 barley. This makes the beer extremely cloudy and gives it a velvety feel to the mouth. he addition of unfermentable milk sugar and a low degree of fermentation gives the beer a relatively high residual sugar content, making it very tasty for a low-alcohol beer.
Hops
No bitter hops are used during the brewing process, which means that Ketelbinkie has a low bitterness. Generous amounts of Citra, Rakau and Lemondrop hops in the whirlpool and during fermentation give a fruity hop aroma to this refreshing beer.
Untappd
"Tasty and a little grapefruit."
specifications
alc.:3,5%, ibu: 8, ebc: 6
There are no products in the cart!