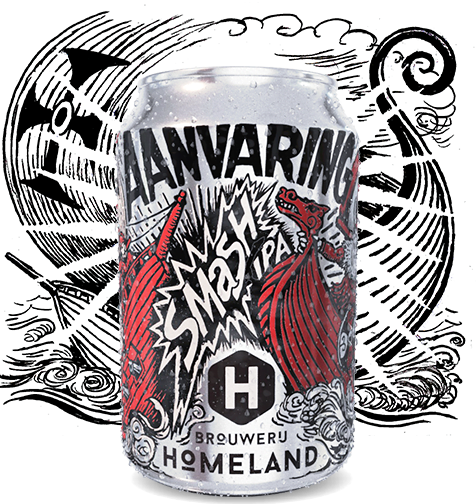 Aanvaring
SMaSH White IPA
Brewed with wheat, hopped with Azacca and fermented with the mythical yeast Hornindal Kveik. Citrus, tropical fruit and pine of the hops dance together in a happy marriage with the tropical esters of the yeast. Up Yours!
Single Malt and Single Hop
De Aanvaring is a SMaSH (Single Malt and Single Hop). The use of only wheat gives the beer softness, cloudiness and a beautiful head. The beer is hopped with Azacca, a hop type characterized by tropical fruit and citrus.
Hornindal Kveik
In addition to the malt and the hops, the yeast also plays a major role in this beer. Hornindal Kveik is an ancient yeast strain that was already used by the Vikings in the brewing process. The yeast can be fermented at very high temperatures, up to 35 degrees Celsius, and gives a fruity and exciting character to the beer.
Following good Viking custom, we yelled loudly while pitching the yeast to drive out the evil spirits. All in all, De Aanvaring has become a uniquely refreshing fruity and exciting beer.
It's a one-off, meaning it's only brewed once. Unfortunately no longer available!
Untappd
"Zo! Dat is een lekker begin van het weekend! Citrus en een lekker bittertje... "
beer type
SMaSH White IPA
specifications
alc.: 5,5%, ibu: 35, ebc: 6
There are no products in the cart!