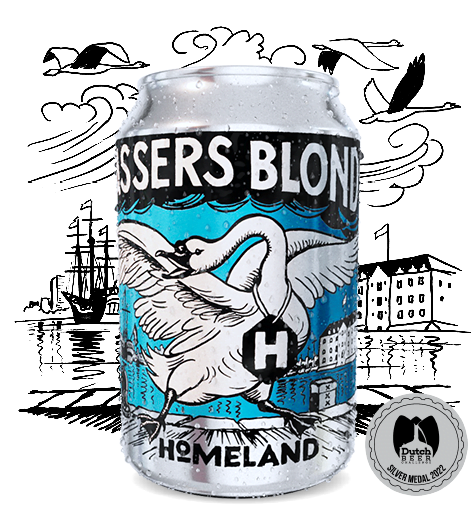 Brassers Blond
Blonde beer
This sweet-voiced blonde has recently joined Homeland and sails smoothly all year round. Tight dark blonde with strong German hop accents that roll over the tongue. Already a familiar sight. The cutest blonde of Amsterdam!
Silver for Brassers Blond!
Brassers Blond has won Silver at the Dutch Beer Challenge 2022!
Pale Ale malt and lightly caramelised malts give this beer a full malt flavour and slightly darker than blonde colour. A small amount of German bitter hops and hops added in the whirlpool give it a subtle bitterness and light hop aroma.
Low fermentation
Low fermentation means that this beer contains a lot of residual sugar, giving it a pleasant sweetness. An accessible and smooth dark blonde beer that you can enjoy all year round.
Untappd
"Fruity (also in aroma), sweet, malty, slightly bitter aftertaste. A fine blonde beer."
specifications
alc.: 6,4%, ibu: 28, ebc: 14
There are no products in the cart!