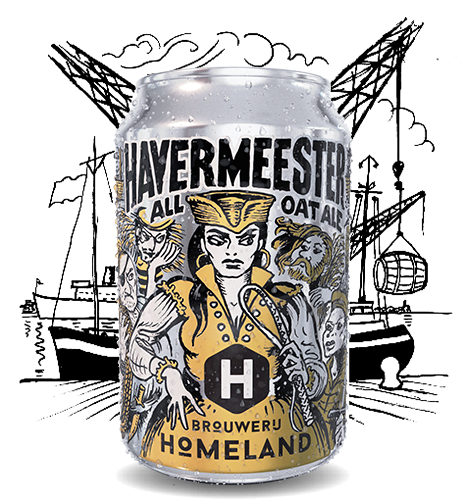 Havermeester
All Oat Ale
Homeland Brewery kicks off summer with a unique feature: a hazy pale ale brewed with 100% oats. Havermeester is a beer with a slightly bitter and delicious fruity aftertaste to get you into tropical vibes.
Come and see!
You never drank a beer like the Havermeester before. It's brewed with 100% naked oats, a special and exclusive type of oats without husks, which are ground for us by the traditional Zandhaas windmill.
Silky smooth
Without a MEURA filter, this brew is impossible, but even with this filter we had our hands full. In the mash we added enzymes for the conversion of starch to sugar, and the filtering lasted into the wee hours. But the results are impressive: a beer with a silky mouthfeel and a bitter aftertaste. The hops Galaxy, BRU1 and Vic Secret give a special aroma with notes of pineapple. A tasteful and special beer, and with only 4% alcohol easy to drink one more of.
sold out
Untappd
"Lichtbittere bite, fruitig en vooral erg ZOMERS."
specifications
alc.: 4%, ibu: 30, ebc: 6
There are no products in the cart!